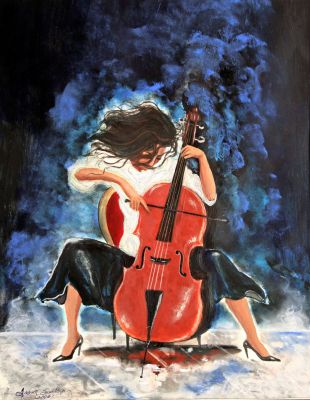 Frank Sowells, Jr. was born to be an artist, winning his first art contest at the age of five. He is a graduate of the Art Institute of Dallas, and also studied at Texas Tech. He has worked in the commercial art field, and was a court illustrator for several years.
Frank later turned his attention to the fine arts, founding Art View Creations. He is inspired and influenced by a diverse group of fine artists including Alix Beaujour, Charles Bibbs, and Arthello Beck; and also by his pastor, T. D. Jakes. Frank believes that all things are possible with God.
Frank utilizes acrylic, watercolor, pencil, pastel, charcoal and oil in his works. His work has been called passionate – using strikingly vibrant color, evoking strong emotion, and expressing movement. He enjoys experimenting with new techniques and textures and strives to keep his work fresh and inventive. A frequent traveler, Frank has participated in numerous art exhibitions such as Gold Coast Art Fair, the Red River Revel, Denton Arts and Jazz Festival, and the United Negro College Fund.
Frank has been commissioned by clients for murals, portraits, logos, fashion illustrations and book illustrations, including novels and children's books. He credits his wife and business partner, Laura, with playing an important role in the success of his career.